This is pretty much a copy paste from another forum lol.
I will be piecing it together and leaving some parts off so there may be gaps, if you have any question just ask.
If I forgot to remove any of the old questions then just ignore them.
I thought I would share it tho.
I will interject on certain parts for changes and correction and whatnot.
I did this back in August.

Hey everyone. I'm Brandon.
It's about time I finally start a real tank...
The one I have on her before was just practice and I've learned a lot from it.
I'm sorta being forced to build this tank tho....
My ex is being crazy and I'm having to sell everything I own move away back to Bristol.
Might as well build this while I have a chance cause who know when I'll have another.
I've been saving up supplies here and there.
I'm going to having someone babysit my viv for a month or so and I'm coming back to get it. I hope to find a job quick and get some PDFs. Please feel free to suggest some for this tank.
Ok now for some pics of what's going on so far....
Here is the tank....missing the top peice of glass(door) gonna get it soon.
As you can see I painted the bottom to cover the false bottom and give it a sleek look
Side view
Here is the false bottom...I did a pedestal type of thing and let the edges overhang. That way it can be removed easily and have a tight fit and also it's just so much easier to attach my screen. Plus it's super sturdy so no sense in a support in the middle. The screen btw is bug proof window screen and is pretty much like combining weed block and window screen. Each hole is maybe the width if a sewing needle.
Here is what I did with my false bottom....I attached a stainless steel wire to it so I can pull it up.
I made my light fixture myself. It was a regular 10long fixture but it had incandesant sockets.
I was happy to find this at the local petstore for $5. I cut it down to fit the top of the tank then I expoxied the sides back on. I will be installing a fan on top...(diagram below)
Here is the bulbs I bought....hopefully it will be enough...
Lights on...
As for plants I don't have such an awesome selction as most of you cause I don't have time to order any but I will be updating them in the future.
This is my 29g green house that is lit by a PC fixture and has a fan inside.
Here are the plants I have...
I hope to add a Mist King starter system to it once I get enough money and get better plants like I said...
Now time for a nap and then to go get the adapter and fans.
So here is some gadgets I bought today....
AC/DC power supply with volt control $15 Lowes
2 1 9/16" fans $12.99 Radio Shack
2prong adapter $4(gonna take it back...only got it to test the unit. Gonna splice straight into power supply)
Probably gonna be taking the one fan back and get a cheapo fan and have it resting on blowing on it constantly and the timer will shut it and the light off.
Eventually I'll get around to getting another fan and putting it on the light.
Here is the fan and stuff
Here is the specs on the fans for you geeks out there...
Now back to my air duct system I'm scemeing up...
Here is a rough preview but I'm about to change it. I was to be able to still access the fan in case it burns out...Any ideas on how to make it still accessable?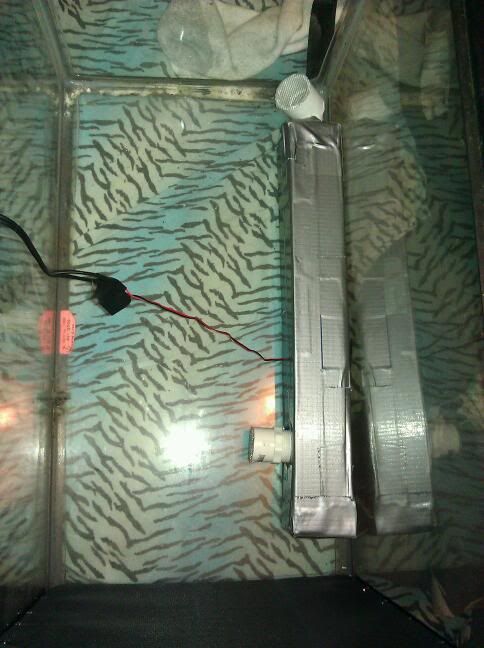 wound up not using this fan or that air duct design
Finally decided to use the larger fan...
Made a decent air system from what I've had laying around...
Gotta get a longer tube tho...only like 50¢ at Lowes.
I have my vine siliconed and peated...
I'm curious how long I have to wait before sucking it off with my shop vac or brush the excess peat off.
I'm gonna do the bacground in eco earth.
Scored some free pots at Lowes.
They have a recycle rack that people drop off pots they don't use.
So I got a few of them...I'm gonna sanatize them well.
They are pretty small too.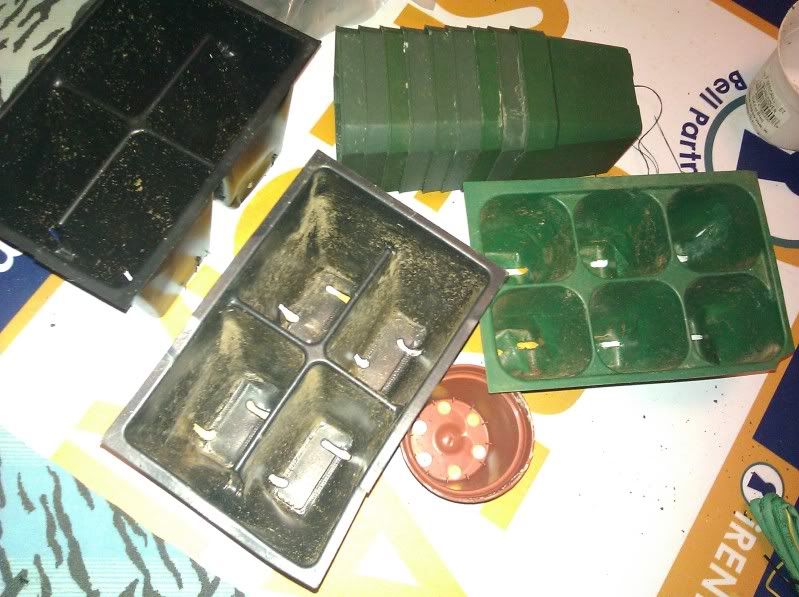 So I got....grapewood :o
I know it molds but I'm sure the mold will go away.
I'm setting this tank up and letting it sit for a while until I get on my feet and by some PDFs.
I know I had mold issues on my grapewood I'm my green tree frog tank but it went away.
Plus the fan cirulating the air you stop mold growth right?
Here is a view from the back
I siliconed the grape wood to the viv before I used the GS.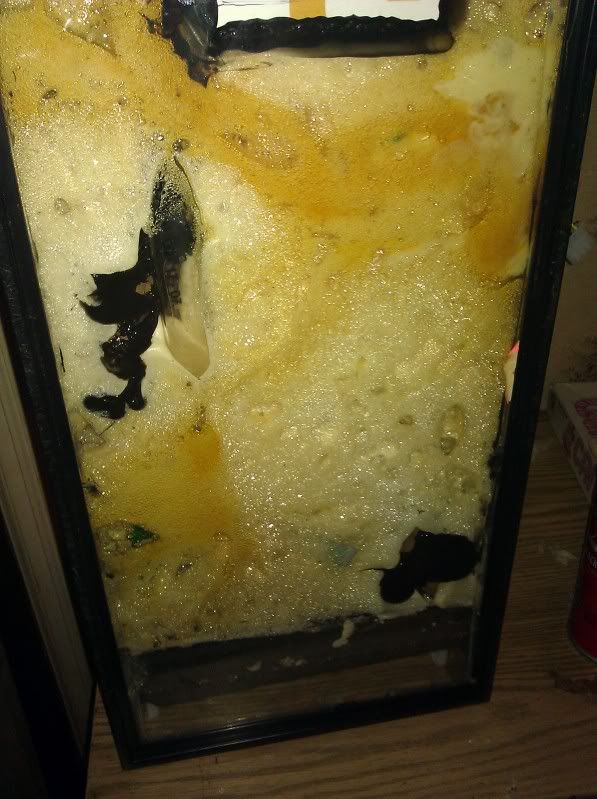 here is the view from the front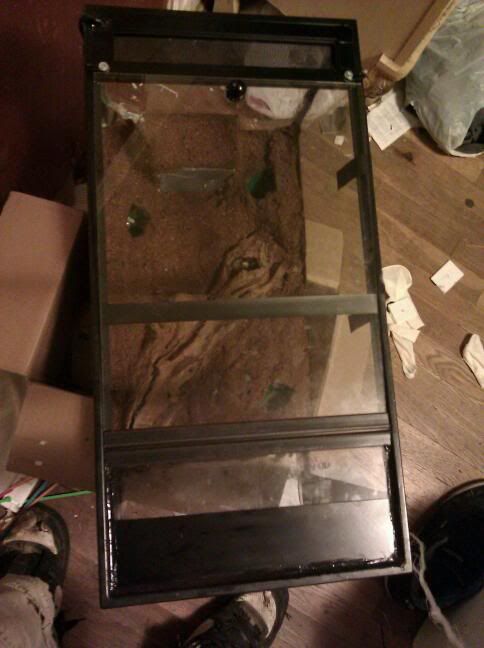 Hey everyone
my tank is finally finished
haha I thought it was done and that it it looked great but I was about to find out that this was crap compared to what it finally wound up being :wink:
except for the leaf litter in the film canisters for eggs.
I'm only gonna get to enjoy this for maybe one night tho....power is getting shut of tomorrow maybe

I got a family member to come take the tank for me and mist it daily.
Hopefully I can get one of them to give me a place to stay but the ex kinda pushed my family away from me :/
I tell ya....women will really drive you into the ground :|
I know you're probably thinking, why didn't you use this money to pay the bill....well I actually have been saving all this stuff for some time and I had money on gift cards.
I maybe speant $4 out of pocket for the glass cause my Lowes card got used up.
I had a few hiccups going along... I made top side pieces, wings I guess you could call them, didn't work they blocked out half a light so I wound up cutting and tearing them out and scraping off all the silicone.
so here you go.....I think it turned out pretty well for my first PDF tank
I hope you all like it.......cause I know I sure do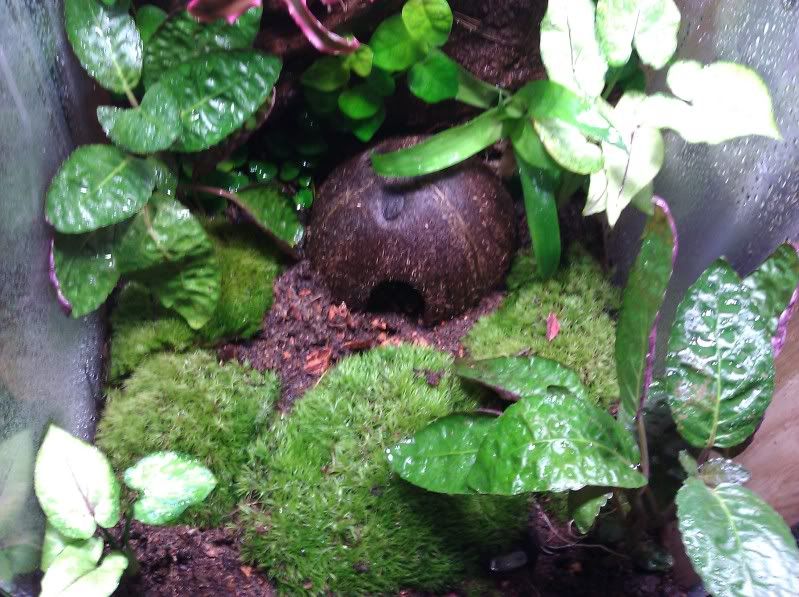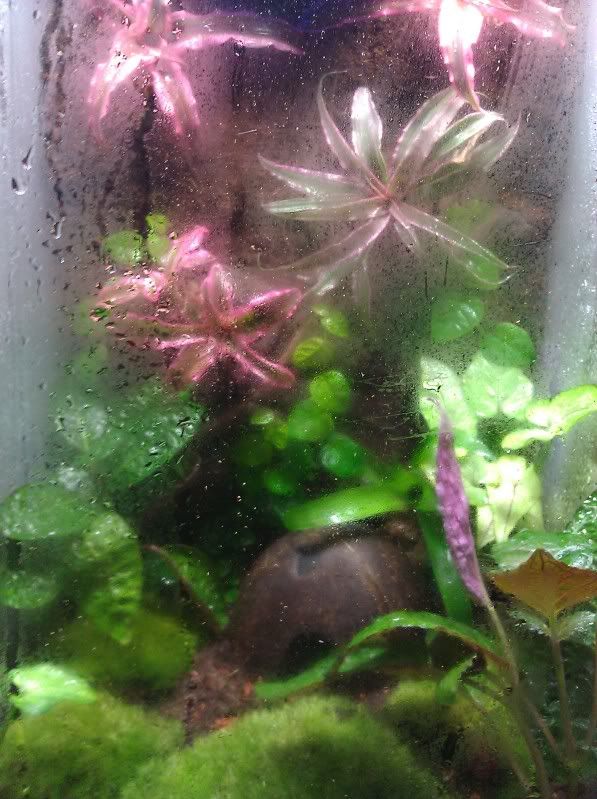 Here is my leaf litter....I'm gonna boil it soon. Great thing about living in GA is that there is Magnolia trees everywhere....I have a huge one in my front yard. It sure is hard to find small leaves tho :/ and no I don't use any kind of pesticides or anything in my yard.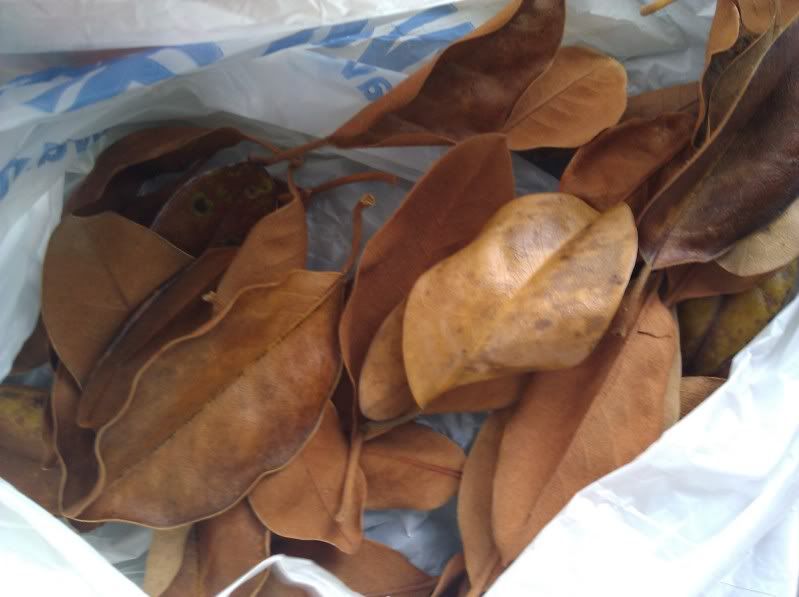 here's where it get's good
hey everyone I have an awesome update for you

I went to Repticon and got some broms $4 a piece and Tillsandsias, the one in the middle was $3 and the two top ones were $1.25(I think).
I met up with a few members of that forum and they hooked me up with:
ONe hooked me up with some peperomias, a begonia, a bunch of wondering jew lol, and he gave me a small springtail culture. I also bought some of Fields ABG and leaf litter.
Another hooked me up with some cuttings as well...more wondering jew lol, some verigated peperromias, some vine I cant remember what he said it was XD, some type of fern, some ivy(didn't use), fittonia(didn't use).
two very awesome guys who made me very happy today.
so here is all that I wound up coming home with...and only pulled $25 from my wallet...
here is the ABG leaf litter and springs I got from Field
here was the tank before....
and now the chaos begins

the silicone pulled away from the bottom pane of glass cause I wasn't using my brain and didn't think just to remove the top glass.
-____________________-
then I go to Ace and they didn't have good silicone so I opted for epoxy...I called ahead of time and they said they had marine epoxy but nope I get there and there isn't any :/
the tear down...
testing the arrangement...looks good...
arranging more plants...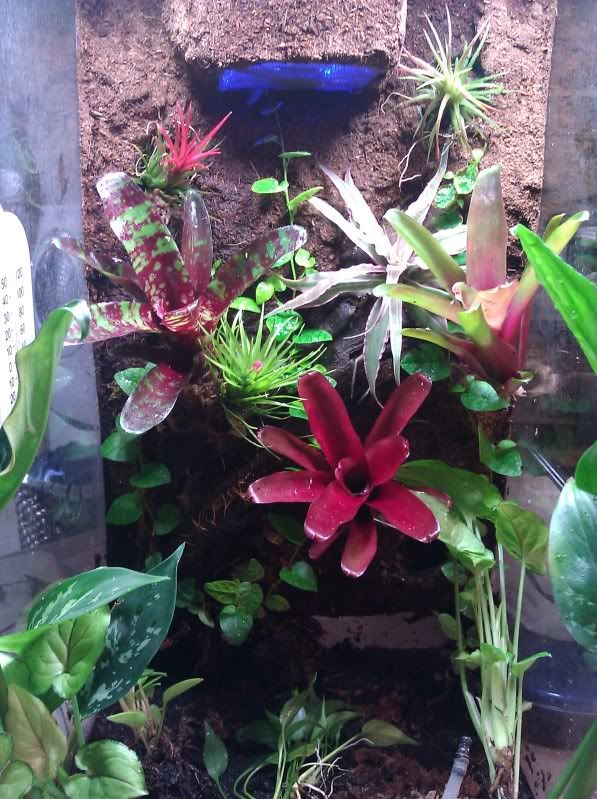 now I will show you the plants the the full take shot for the finale.
need help to ID some scientific names and the broms....
I found out all the names for the plants except the broms and the one vine and I can't remember what that one peperomia is lol.
this is my fav brom even tho idk it's name XD. been wanting one since I saw it months ago....I'm so happy I found it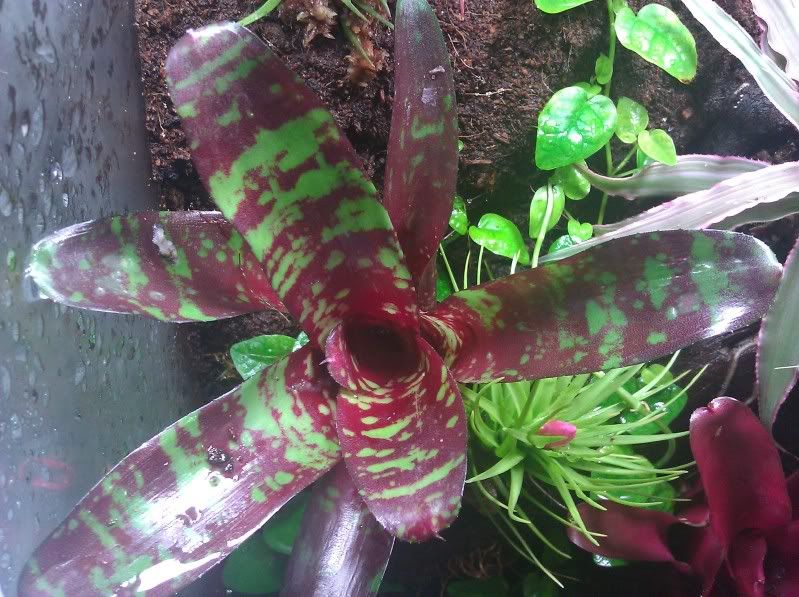 love this one..needs ID
this one I liked as well...this one and the one above had stolons so I just shoved the stolons into the background.
shoved into the background..
here is the Tills.
this one will grow upwards so I put it here and it will grow up towards the fan..Tills need lots of air movement in case ya didn't know. Needs ID.
this one is very colorful and shoots blue flowers...
I broke one of the leaves :'(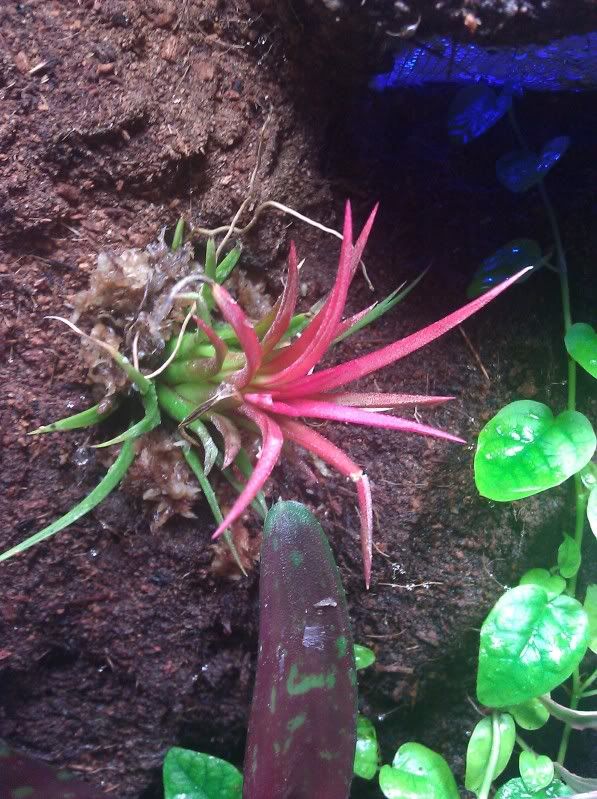 I think this one is different than the one above although it was in the same basket I think it was there by accident so I grabbed it hoping it's different than the other.
here is a close up of the the broms
begonia...
verigated peperomias
they died lol
front of tank
back right corner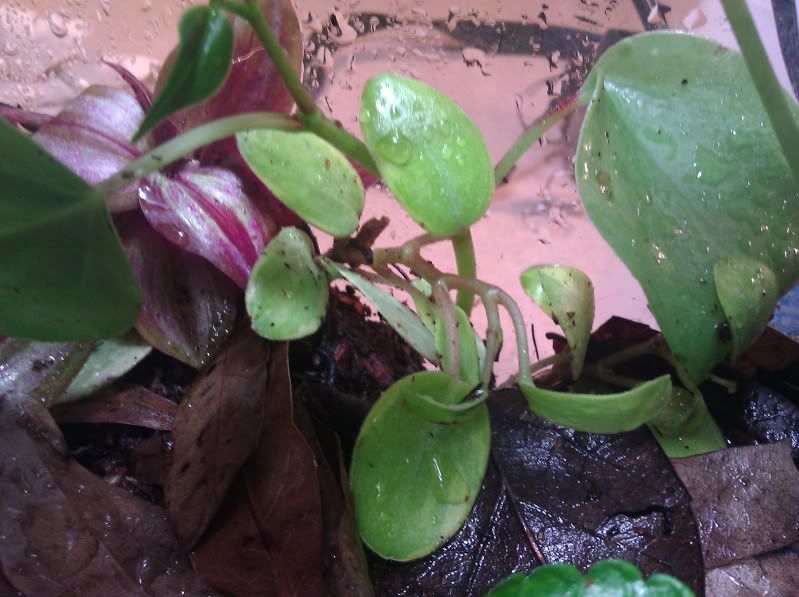 pilea creeping charlie...
wondering jew in the back right corner and a pepromia serpens on the right
another wondering jew
a peperomia....ID?
2 types of ferns...one I bought a Petsmart
here is that vine that I cant cant remember what it's called, sorta behind the till...
here is some FTS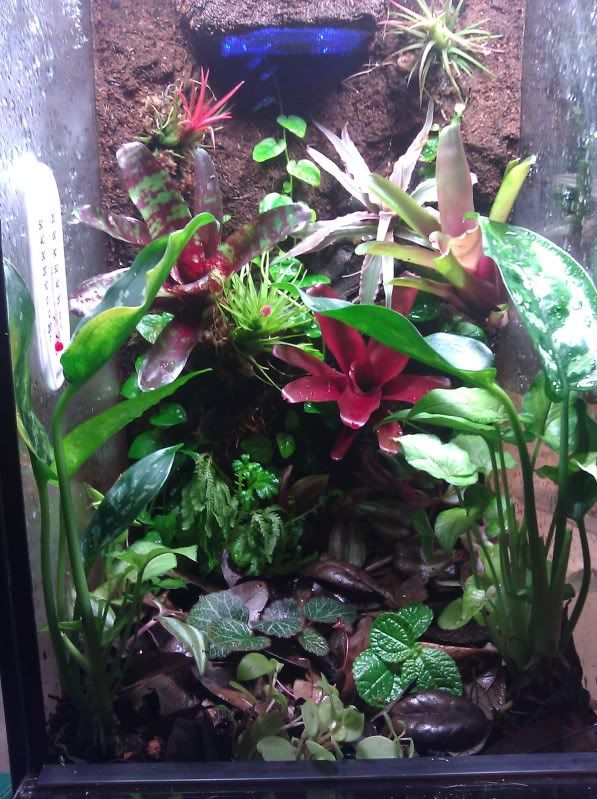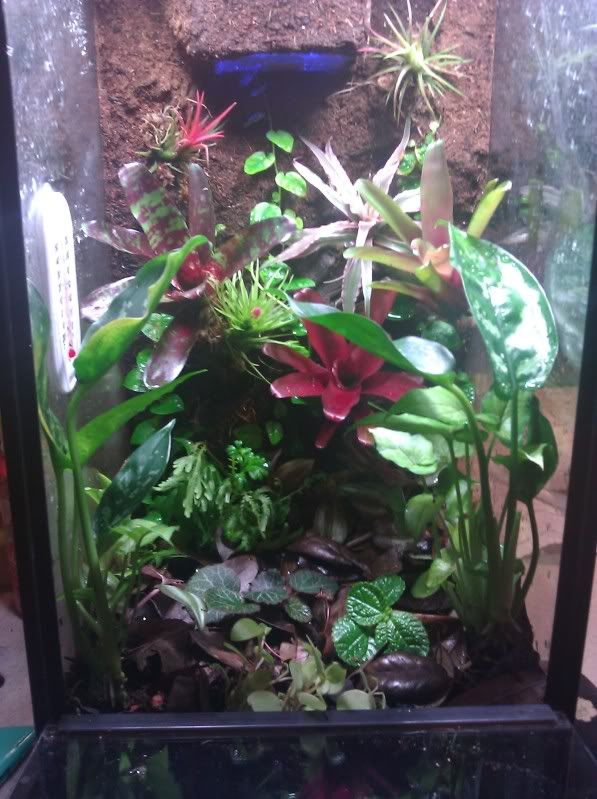 from the top...
here is how I constructed my film canisters.
so I made up the film containers and thanks to some awesome info from
this project only costed me $1 for the suction cups from The Dollar Tree.

as I said above I got the film canisters out of the film storage bag in my dad's fridge.
I took a black container and drilled a hole in the side.
Then took one of these suction cups...
and I scored the side right before the bend
then I snapped it in half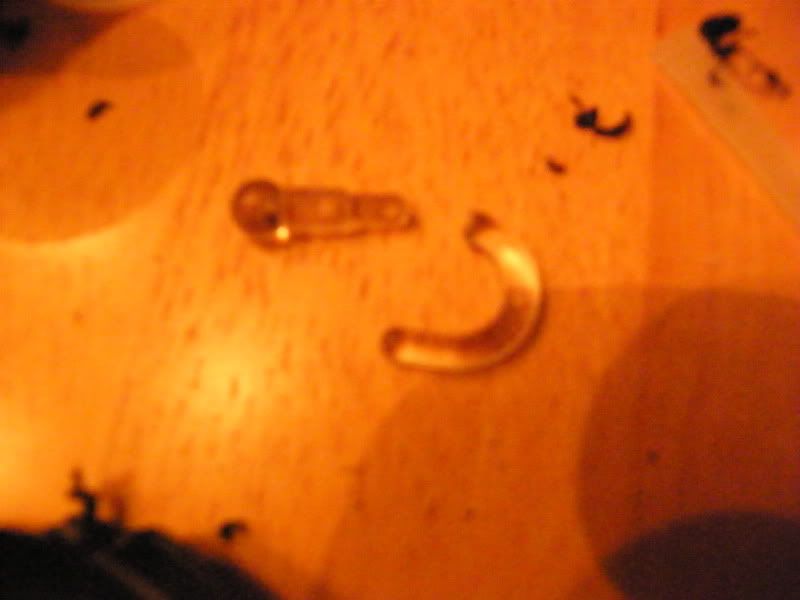 I sanded down the end well to get rid of any sharpness.
then I just pushed the suction cup through the hole in the black container and pushed the pin in.
then I made inserts for the canisters so removing eggs would be simple.
I took some white film canisters and cut them in half and this makes two inserts.
then you just trim them up a bit and get rid of those sharp corners and they slide right in
I sanitized them with a 10% bleach solution
The back of the white canisters is like a shelf so when you pull it it pulls the eggs with it....
Thanks for the awesome info Scott
no Slurpee straws for me...you've egg removal a piece of cake
here is the canisters in the viv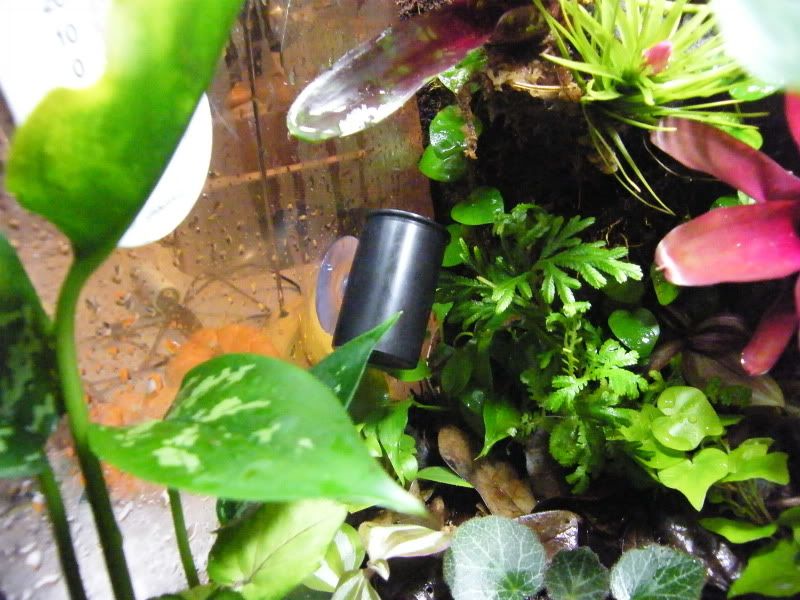 I've heard about how some frogs will lay eggs in the top of the viv so I put one up top by the fan box lol
I'm pretty much set now...I just need to make up some more springtail cultures and seed the tank and start making fruit fly cultures then get me a pair of thumbnails.
here is a slide show of the viv...
http://www.youtube.com/watch?v=fl5IOCUO_hE
Here is my most recent full tank shot of my viv.
Here is what it looks like with the lights off and just the LEDs(its not this bright tho)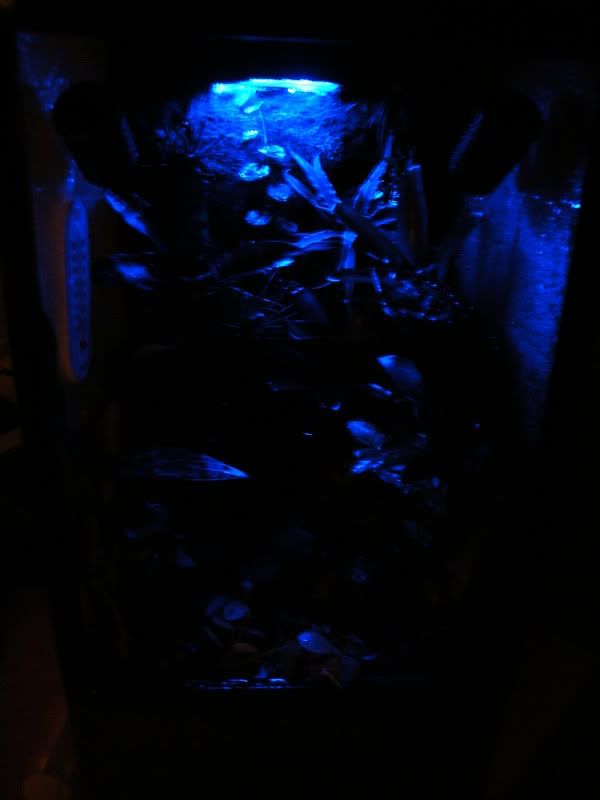 I have pulled some of the plants out to let them grow and propagate so I can make another viv.
I don't currently have frogs but I will be getting some thumbnails one day.
I am working on mastering springtails so far I have 3 large cultures of springtails.
Right now I am holding off on frogs for a bit and when I know I am ready for frogs then I will work on fruit fly culturing.
I was a member of the other forum for a year and I have done lots of research.
I'm not a total noob I know a lot but I don't have much personal experience.
Enough about me lol what do you think of my viv???
btw have I just made a record for longest first post haha?