If you are like me, you purchase equipment and other supplies whenever you can find them cheap. This has led to me buying items from those leaving this great hobby, swapping items at herp society meeting, and the forum classifieds. The modifications I am making are due to my cheapness, nothing against Marty's product. I have the pumps and don't want to purchase a kit. Similar modifications can be made to diaphragm pumps. I use shurflo diaphragms and have a few piston pumps for hydration chambers. Keep in mind piston pumps burnout if run dry, so they are not the most ideal pump.
I was given a 55g acrylic tank from a buddy. All I had to do was take the ball python that lived in it. Given that it was acrylic, I did not was to use the standard, cheaper nozzles I use, and wanted to direct spray away from the front view. I also wanted to be able to keep this tank separate from the misting system so I could eventually move it to the family room. So I needed an independent misting system, thus the use of the piston pump. I need to call my wife's uncle who is a model train enthusiast. I hope to combine frog keeping with trains. I want to add the train modules to have it thunder when the misting starts. It is cheaper to use the train module than the produce section module.
The steps are easy. I purchased the fitting at Menards (Midwestern hardware chain), but I know Lowe's carries the same brand. Make sure to use pipe tape on the threads! I the pictures are a mock, before I actually attached.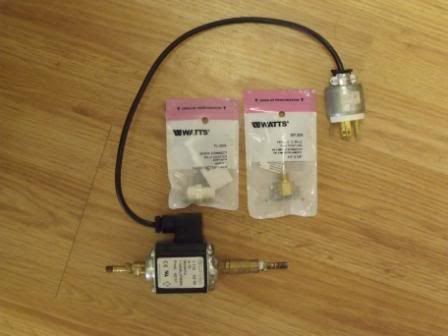 Remove the 1/4" barbed fitting.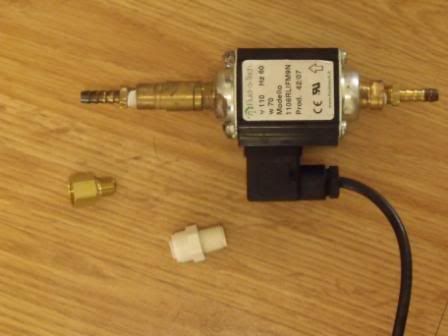 Replace it with Female to Male 1/4" X 1/8" WATTS brand part number SP-266.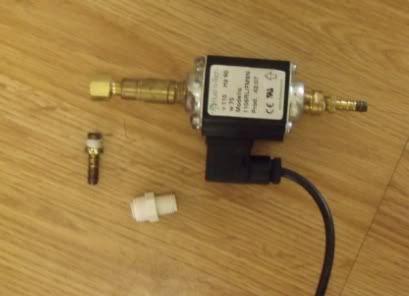 Add the Quick Connect Male adaptor 1/4 OD X 1/4 MIP. This will allow the Mistking line to directly attach to the pump. WATTS part number PL-3005.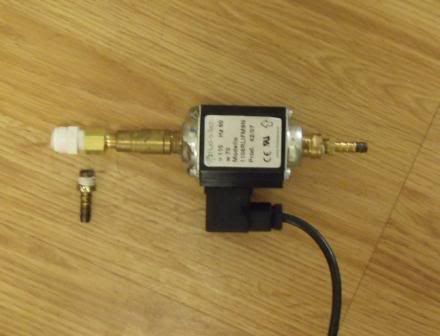 Finished 55g acrylic A. pepperi tank.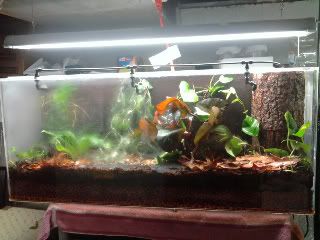 Later and Happy Frogging,
Jason Juchems